In Memory
Paul Wolf (Jr)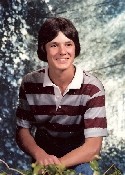 Wolf, Paul Herman "Junior", Jr.
Age: 42
Passed Away: 2007-09-17
Funeral Home: Booker-Gilbert Funeral Home
FRANKLIN — Paul Herman "Junior" Wolf Jr., 42, of Portland, Tenn., died at 12:40 a.m. Sept. 13, 2007, at Vanderbilt University Medical Center in Nashville, as a result of injuries suffered in a work-related accident. The Portland, Tenn., native was born Oct. 10, 1964. He was a Christian, a graduate of East Robertson High School and DeVry Institute in Atlanta, a farmer and a maintenance tech employed by Collins & Aikman. He was a devoted family man who gained great joy from his daughters. Spending time with his family was his passion. He was a son of Paul H. Wolf Sr. of Portland, who survives, and the late Ruby Phillips Wolf. Funeral is at 2 p.m. Sunday at Booker-Gilbert Funeral Home, with burial in Zion Lutheran Cemetery in Simpson County. Visitation is from 2 p.m. to 9 p.m. Saturday and begins at 6 a.m. Sunday at the funeral home. Expressions of sympathy may take the form of contributions to the American Cancer Society. Other survivors include his loving wife, Stacie Wolf; two daughters, Kayla Salyer and Julia Wolf, both of Portland; four sisters, Nell McGee and her husband, Kent, of Florence, Ala., Barbara Fort and her husband, George, of Greenbrier, Tenn., Myra Adcock and her husband, Gary, of Springfield, Tenn., and Susie Randolph and her husband, Todd, of Germantown, Tenn.; a brother, Jerry Wolf and his wife, Erin, of Glasgow; 13 nieces and nephews; two great-nephews; and a great-niece.